The Purpose and Abundance Online Retreat
If you're feeling stressed, rushed and under pressure every time you try to focus on building your business, and you're ready to experience a successful business that allows you to support your family, travel the world and serve the planet, then it's time to live on purpose and receive abundance!
GET INSTANT ACCESS TO ALL 9 LIFE-CHANGING WORKSHOPS
SIGN UP NOW!
"Purpose isn't something you do, purpose is something you already are
, you just have to know how access it."
Why your business isn't growing, despite everything you're doing...
After spending years working as a performance coach in the corporate world, and more recently as a personal Human Design coach, what I quickly learned is that people are running success strategies that will never work for them, and spend every waking moment stressed about how to actually build their business and make money...
Pay attention, because this is one of the most important (and fundamental things) you'll ever learn in your business journey & if you don't get it right now, it could cost you your purpose and the freedom to live your most abundant and impactful life.
Where most people think that they don't have enough time, money or that they don't know their purpose or how to attract customers without hustling...what they're missing is the CRUCIAL step that comes before anything else:
If you don't know how you're specifically designed to succeed then you never will be successful on your own terms.
Without understanding your Human Design, consciousness and how specifically you're designed to create abundance and be on purpose, you will never have enough time or money to create a successful business and be able to easily support your family doing what you love
This is exactly what you'll discover during this incredible online retreat.
SIGN UP NOW
To discover how you're designed to create abundance and be on purpose...
...you have to master the art of aligning to your internal guidance, breaking old conditioning and knowing what's true for you.
But there's a problem...
You have NO idea how to discover what's true for you, or what you really want, because you've been trying to be the person you think you "should" be for so long...
You're so stressed and overwhelmed by the idea of starting a business or putting something out there, you don't even know where to start...
Even though you know you were put on this planet to have an impact, you have limiting beliefs that tell you you're not good enough...
You've tried so many models and tactics to try to build a business and get your message out there, but nothing seems to work and you don't know how to attract the right customers without hustling...
You can say goodbye to all of that...and I know this because I was there once too.
In fact, I have NEVER had a business coach, and each year this business grows exponentially.
There is nothing special about me, there is no hidden secret, I have simply mastered the art of following my internal guidance and trusting myself to lead from the heart.
I've done this by aligning to my own unique design and energy and understanding what works for ME.
This is something we completely captured in this online retreat - every single speaker gives you a way to look within YOURSELF to discover your own superpowers, purpose and how you're designed to call in abundance.
Not one of our speakers left any value on the table...
How many free virtual summits or events have you been to where this happens: you get told what your problem is, how that problem developed, you get told there's a solution, and then they tell you to sign up for a program to get it....and when you do sign up, you maybe complete 2% of it or leave it to collect dust in the land of lost courses...
Sound familiar? Yeah, I've been there too, and I'm so done with it.
I'm so tired of the marketing tactics that show you how to create success, wealth and abundance...because they all miss the critical point: showing you how you're specifically designed to succeed!
And that's exactly what you're going to walk away with after you join this program.
SIGN UP NOW
9 Workshops
Instant access to 9 incredible 2-hour sessions where you will hear from expert speakers who leave NO value on the table
Lifetime Access
Access these workshops as often as you need to and for as long as you need! Once you register, you have access for life
Tangible Results
Walk away with tangible action steps and knowing exactly what you need to do to conquer your path. No value is left on the table
TOPICS INCLUDE:
Human Design, Gene Keys, The Pearl Sequence, Brand Alchemy, Spiritual Investing, Growing Your Money Consciousness, Sovereign Leadership, Authentic Business, New Paradigm of Marketing & Branding, Overcoming Internal Conflict & Fear, and

SO MUCH MORE...
The incredible experts you'll hear from:
Don't miss the chance to "be in the room" with the people who have created what you want to create.
Atarah Valentine
Atarah Valentine is a Certified Hypnotherapist and Embodiment Coach with specialized training in Transformative Breathwork, Inner Child Healing, Emotional Freedom Technique (EFT/Tapping), Trauma Recovery, Mental and Emotional Release Therapy, Neuro-Linguistic Programming, PTSD, Cancer, Law of Attraction, Immune Disorders, and Body Image. Simply put, Atarah says, "I teach people how to be themselves".
Valentine has developed a very grounded, pragmatic approach to personal growth leaving his clients feeling empowered and regaining trust in themselves through a process of conscious and subconscious cognitive reframing. Using cognitive techniques to disrupt negative patterning, raising awareness through mindfulness, and integrating new perspectives into the subconscious using hypnosis, Atarah has created a successful wellness brand called The Seed Level that allows clients to do their own transformative work without the need of a 1:1 session.
Franziska Iseli
Franziska is a maverick entrepreneur, leading marketing and brand strategist, mad adventurer, author and the co-founder of Basic Bananas, OceanLovers, Moments of Humanity and The Business Hood.
In 2013 Franziska was awarded the Young Entrepreneur of the Year award recognizing her innovation, creativity and philanthropic involvement. Franziska is also a board member at the Entrepreneurs Organization and on the judging panel for Singularity University Australia.
A true visionary and eternal optimist, no challenge seems to be too big for Franziska. She is known for her rebellious nature and doing things differently. She has this rare combination of being both creative and strategic, which makes her a powerful leader in the business world.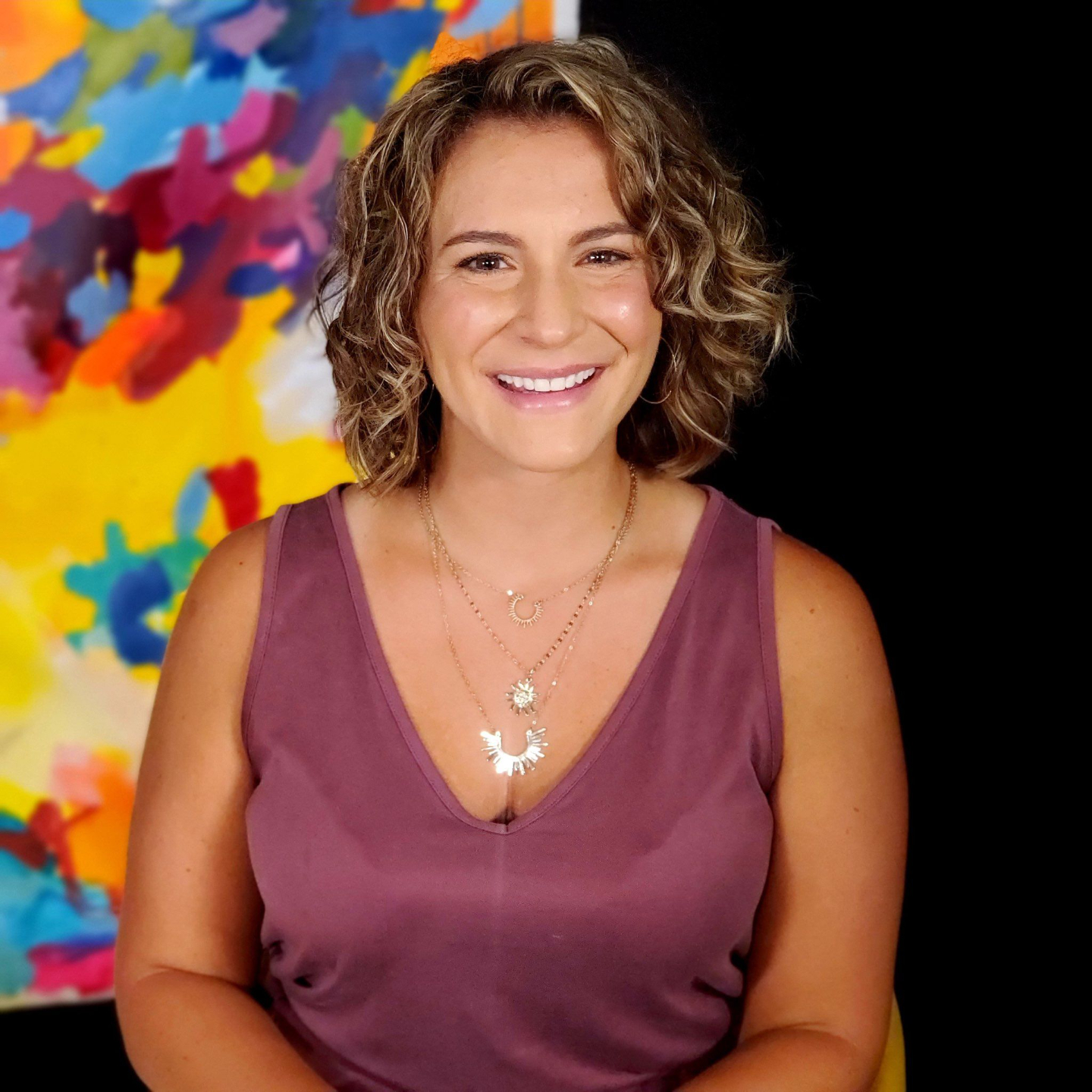 Jess Bubbico
Jess Bubbico is a 4/6 Emotional Manifestor who supports entrepreneurs in the online healing and wellness space with authentic messaging, marketing, and growth. Through her work, she invites her clients
to follow their own internal creative juices and l
et go of what others have done before to find their own unique way of sharing their work with the world.
Jess is a super connector and loves connecting the right people with each other to grow, prosper, and change the world together.
She is a world traveler and lover of all things human connection, community, and growth. You can connect with Jess on Instagram @loveyourwoo, on her podcast The Love Your Woo Podcast, or on her website at www.loveyourwoo.com.
Elizabeth Ralph
Elizabeth Ralph is a high-level wealth strategist and intuitive investor who retired at the age of 39 in order to teach others how to reach financial freedom through non-traditional ways. She is the founder of The Spiritual Investor and the host of The Spiritual Investor podcast, the place where entrepreneurs transform from unsure investors to effortless wealth creators. Formerly a financial executive and energy trader, Elizabeth shifted her focus entirely in 2012 while feeding Cheetos to a kangaroo on a beach in Australia. She realized that in order to fulfill her purpose of saving unwanted horses from slaughter she needed to break free from the confines of the corporate world. So right then and there, she decided to go "all-in" and set up a strategy to achieve financial freedom within 10 years. Since then Elizabeth has helped countless spiritual entrepreneurs to create their own strategies for financial freedom through The Spiritual Investor framework.
Heather Ivany
Heather Ivany is a renowned spiritual mentor, yoga teacher and akashic guide with over twenty years of experience leading innovative courses, private training, immersive retreats, and more. Harnessing a radiant warmth and decades-long immersion in spirituality, Heather facilitates life-altering transformation and growth for those who seek guidance or feel resistance aligning with their purpose. Heather's intuitive and enveloping approach awakens those who work with her to release what is limiting them and expand into the higher version of themselves. Her teachings have left an imprint on thousands of students, granting them the practical skills to unconditionally embrace the fullness of the human experience. With the gentle wisdom and compassion of one who understands the nuances of spiritual practice, she opens students to the joy of exploring the deep and mysterious inner landscape of the heart, mind, and body. Her acclaimed akashic readings and training in particular have opened the records to an entire generation of new students who are expanding the tradition of awakening consciousness.
Jeffrey Stegman & Clayten Stedmann
Focused Life-Force Energy began in 2008 when two men with an interest in high-consciousness fields met through a mutual friend. After coming across the beginnings of an invention that would become part of the FLFE system, Jeffrey Stegman and Clayten Stedmann worked together to develop it into more. Eventually, they would broadcast high-consciousness fields to specific locations around the world. They poured thousands of hours into research and development to share this technology. Beginning with service projects and targeting traumahit areas like refugee camps, FLFE grew into a private company and is now invited into the lives of thousands of people in over 80 countries. We still donate approximately 90% of our service with global projects including support for bees, whales, and dolphins as well as other larger global projects. FLFE is a thriving international organization that continues to explore what is in the highest and best interest of all creation.
Emma Dunwoody
Emma Dunwoody is a qualified Master Coach and Human Behavioral Specialist who wakes people up to the power within them using Human Design, a system of self-knowledge and guidance unlike anything else that exists. Her vision is to take Human Design mainstream so it becomes more widely accepted than any other global profiling, behavioral or healing system — she believes it will transform personal development, education, and business forever. Emma wants to inspire everyone to unlock their inner wisdom, take their power back and feel deeply confident in the decisions they make. This will create a population that values themselves and courageously lives their truth, which will deliver us to a new paradigm of peace, joy, and abundance.
Customize Your Experience:
Register below and choose the program that works best for you!
Not sure? Don't take our word for it...
Here's what members of the event had to say about their experience: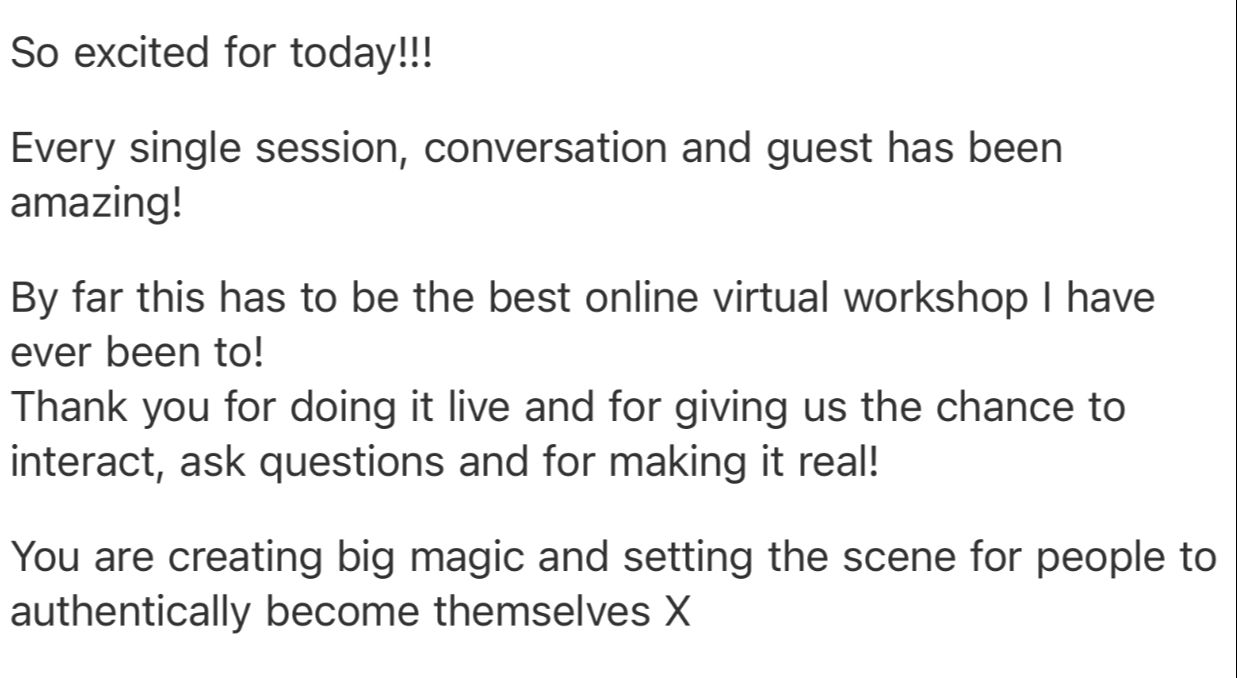 What you focus on is what you get,
no exceptions.
Have you ever noticed when you're asked what you want, you will actually share what you don't want?
This negativity bias is an unconscious setting in our brain, one we work to undo during the course of this intensive.
Imagine

if you could....

STOP giving your power away and learn to live in alignment with your truth

INCREASE your self-confidence and worth, believe in yourself and trust what you came here to do

HAVE the freedom to live life on your own terms, choosing who you want to be and the life you want to create

IMPACT hundreds, thousands or even millions of people with your innate gifts, wisdom and power (simply by being you)

STOP thinking about surviving and grow into abundance and freedom

FEEL more energetic, passionate and joyful about life
...when you learn to
live in alignment

with your unique purpose, this all becomes possible. I'M READY FOR THIS
Hey, I'm Emma.
Here's a little about my story...
In 2018, I had been studying human behavior for 14 years...
It had me in a place where I healed my depression, I healed my panic disorder, I healed a relationship...
There were so many GREAT things going on in my life, however I felt incredibly unfulfilled...
I knew it was meant to feel better than this, I knew something was missing...
I still wasn't getting paid to do what I loved, I didn't have that passion or fire inside me I thought I would feel...
I didn't have the TANGIBLE results.
But then, the Universe delivered what I had asked for...
It gave me what I needed to fully step into my purpose...
And Human Design came to me (for the third time), and this time I couldn't ignore it.
I went ALL IN, and I realized that the reason I wasn't getting paid to do what I loved is because I was lying to myself about what I loved...
I was operating from my conditioning and what other people told me I "should" do or who I "should" be...
I was playing it safe, I was out of alignment with my design...
I resisted and rejected Human Design so many times because I didn't want just another cookie cutter methodology to put me in a box and tell me who I was...
These methods didn't work for me, and they don't work for you either!
The reason you're not living in alignment with your truth is because you're trying to think your way into alignment by "knowing" the details of your design but not actually integrating and embodying them...
I realized that there aren't many coaches out there teaching people how to LIVE their designs...
When I committed to the experiment of Human Design and fully integrated it, EVERYTHING changed.
I have a hugely successful business on it's way to 7 figures...
I have a leading podcast in my industry...
I'm living the digital nomad life traveling around with my family and working less...
I have the most beautiful relationship with my husband and happy children....
And most of all, I have the freedom to be ME!
I've learned how to live in alignment with my design, and so can you...
That's what we came here to do!
Join the Purpose & Abundance Online Retreat and watch it come to life for yourself.
ENROLL NOW